What exactly is content marketing?
Content marketing is a term used to describe everything that involves direct human-to-human contact for the purpose of creating and sharing content to eventually encourage purchases by current or future client bases.
Content marketing aims to increase sales with a small budget by delivering quality and valuable information that drives profits. Its primary benefit is the ability to hold attention longer than a traditional advertisement and faster brand development.
Content marketing is an effective way to touch all the human senses and interact with people in a way that wasn't heard of a few years ago.  Products and services can not only be read, but also seen, heard, and felt instantaneously.
However, the purpose is not to spam or scream about your offerings in the hopes of making the sale, but to educate and inform your target audience while "sometimes" including your products for discussion. The popular belief is that by giving valuable free information, brand recognition and industry expert status is obtained.
Media marketers use different social properties to reach various goals that don't always involve money, such as leadership, fame, lead generation, or improved retention.
So what falls under content marketing?
Videos — creating and uploading videos on YouTube connects you with your target market using all senses to interact and "talk to" your prospect as if they were sitting with you in the living room or outside on the beach.
Articles — usually a part of writing blog posts for a blog, articles are a powerful way to communicate with your audience. Not as powerful as video and audio, but strong nonetheless.
Web 2.0 — Go to HubPages.Com, Squidoo.Com, or WordPress.Com and you'll get an idea of what web 2.0 properties consist of. These are places where you connect the dots or send people directly to learn more about you or the subject of interest.
These websites are like your center control panels where you run the show and can control more of the information and the direction your visitors go. But when it's all said and done…
You earn by DOING. Period.
You don't need the most expensive social media training course. You don't need to get all your ducks in a row before you fire your first shot. And you don't need to study, study, and study to make progress in your online business.
When you go out to your local grocery store, do you stop yourself from leaving because you anticipate a few red lights along the way? I doubt it. Because ultimately you know you're going to get to your destination.
Treat social media marketing as if you're looking for food, and your food is "taking action". If you don't take action, you're business starves to death. Want your business to survive? Take massive action, adjust, and take more action until you get results.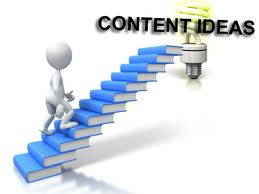 Here are 15 quick content strategy ideas….
Write a special report or white paper that addresses a tricky problem in an interesting way.
Build a Facebook page (separate from your personal profile) that gives you another platform for interaction with your customers.
Take a topic that's subject to information overload (maybe it's "the coolest apps for your iPhone") and make it manageable. Create a "10 Best" post that is straightforward, user-friendly and gets the reader out of information fog.
Most of us know that Twitter is an exceptional tool for building relationships with prospects and customers. To use Twitter most effectively, make your tweets entertaining, funny, and/or personal. The right balance on Twitter is generally 95% relationship-building, 5% selling.
Create a buyer's guide. Use it to frame purchasing questions on your terms. Let buyers know what to look for and what to watch out for. Tell them what questions they should be asking.
Review everything. Books, blogs, newsletters, tools, physical products, information products, new technology.
Create a useful utility tool (a checklist, spreadsheet-based calculator, cheat sheet, planning worksheet, etc.) that can be distributed to your blog subscribers or email list. These make great "thank you(s)" for subscribing to your site or autoresponder.
Create a free course delivered by email autoresponder. I've used this quite a bit in my own business and for clients.  It's a great way to build trust and rapport.
Write a series or a regular column "authored" by your three-year-old, your dog, your cat, your horse, or your reptile. Think it's too cutesy to work with your audience? Try it and see.
Your comments on other people's blogs are content. Treat them that way. Be original, relevant and interesting.  Make sure this content reflects well on you.
Take your most popular blog post, add some really good images and convert it into PowerPoint, then record it with Camtasia for a YouTube video.
Compile your best 100 blog posts into a physical book. It has worked for others, and it can work for you! (Use 25 and make it an eBook!)
Build a membership web site that is a really profitable business in and of itself. Create a monthly paid newsletter, delivered electronically or by physical mail, in addition to your free content. Include more detailed how-to and reference information than you would on your free site. You don't have to sell many subscriptions and they don't have to be very pricy to add up to significant income.
You don't have to call it a blog just because you created it in WordPress. Maybe it's Julie's Online Coffee Shop, Excel's Web-Based Self-Coaching Site, Manifesto's Virtual Concierge…it could be a Tutorial, an E-School, a Directory or a Dictionary. Use a brand that resonates with your readers.
Put together one or more Squidoo lenses to attract and focus Google traffic.  You could build a collection of Squidoo lenses that are optimized to sell goods around a particular holiday, like Easter outfits or Christmas lights.  Find an under-served niche within those broader subjects.
This is not meant to be a comprehensive list on the subject—it's really just the beginning. If you don't see your favorite method on this list, let us know!
Precisely.
Want new articles before they get published?
Subscribe to our Awesome Newsletter.